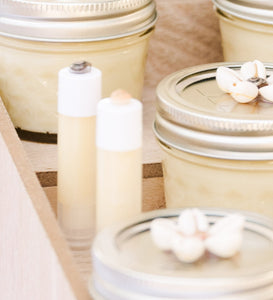 Handmade Organic Lip Balm
The same dreamy organic recipe but tailored into the perfect lip balm that stays fresh on your lips for hours!
Most lip balm brands use wax as their source of moisture, but we all know that doesn't keep your lips hydrated and moisturized.
The shea butter and coconut oil provide your lips with the moisture it naturally craves, while the beeswax seals it in for long lasting hydration.
100% USDA Organic Ingredients 
- Raw Shea Butter
- Coconut Oil
- Yellow Beeswax 
- Vitamin E Oil
- Essential Oils (Peppermint, Lemon, Eucalyptus, Frankincense, Lavender)
---
We Also Recommend